Freescale Design Expertise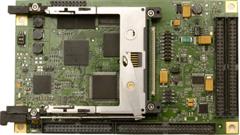 Based on ARM core technology and designed for use in smartphones, wireless PDAs, mobile entertainment and many other mobile wireless applications, Freescale's i.MX family is engineered to offer smart speed, low power consumption, floating point calculation capability with MHz performance to spare, and a high degree of integration to reduce design time significantly.
We have Freescale boards in stock and ready with Linux and Windows CE, and are underway with several custom Freescale designs.
Eurotech is a member of the Freescale Technology Forum and has several i.MX31 designs either as standard product or available as custom systems. We support advanced features such as Vector Floating Point with both our Embedded Linux with EABI and Embedded Windows BSP operating system options.
Likewise, Eurotech is an early adopter of Freescales's Zigbee radios and can provide them in standard and custom products.
For more information on how Freescale i.MX technology can be applied to your project, contact us.