Development Systems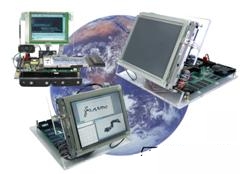 Eurotech offers much more than a simple development platform or stand-alone board. Our products ensure that you have product at launch day and volume production by release to ship. Our systems include:
AtomTM, x86 i.MX31, PXAxx, IXP4xx and EP9315 single board subsystem computers that are application-ready (with image, drivers, OS, LCD, all included)
A fully supported Microsoft® or Linux operating environment
VGA or better color LCD
touchscreen & LCD
inverter
cables and manuals to get you up and running
Eurotech offers schematics for our various adaptor, personality or connector boards to facilitate our customers' product development.
We offer Linux source code as a matter of course, and Windows® BIOS or BSP/HAL source as part of a OEM contract. Our support forums have thousands of lines of sample application code to get you started.
For more on our development systems, contact us.
Development platforms based on ARM core
BitsyXb: for people making handheld and battery-powered devices
TurboXb: a modular CPU board
Bitsy G5: handheld and battery-powered devices, with hardware vector floating point
Turbo G5: a modular iMX31 Solution
GCM: for PXA3220 Systems
Sphere: Low cost 200Mz, with CAN bus
TITAN: PC/104 with PXA270
ZEUS: EPIC, Expandable, PC/104
Support Services
Applications Support is Free
Eurotech provides extended application development support services to all OEMs in progress to production systems. Service is provided via interactive web forums, email, phone and occasional direct customer meetings. Application support is provided to OEMs for a full year after Development System purchase and is ongoing as part of all OEM supply agreements.
Warranty Support
Eurotech provides Warranty support for all systems. Warranty support includes principal fulfillment of the OS API calls through the hardware for supported Eurotech functions and features.
Customer-Specific Adaptation
Eurotech provides System Development support including; new configurations, new drivers, new OS builds, provision of a BSP, alternate OS support, alternate hardware support, etc., all as part of negotiated engineering service agreements leading to OEM supply agreements.
NOTE:
The above specifications are summary in nature and particular specifications may interact with or exclude each other. Also, the level of function available with any hardware item is dependent on the particular operating system and revision installed. For information on price, specifications or availability, contact us.