Design Options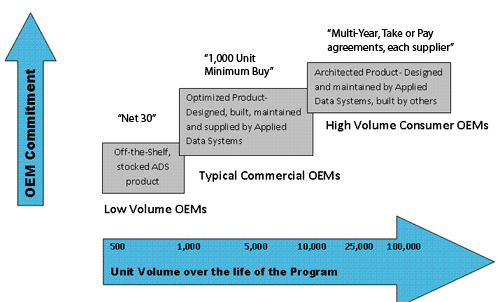 Save the Most Time - buy off-our-shelf
Leverage on the Eurotech supply chain. Eurotech stocks the widest range of single-board, low power graphics computers in the industry. All are fully supported on all of your favorite operating systems, and run with dozens of flat panel options. Our standard products are available off-the-shelf.
Save Time and Money - with Optimized Design
If you are working to a difficult feature set and cost limit, and if you are ready to contract for regular, annual demand, we can we can provide you with a system board or a even a fully built up product, unit-packed, in a box for shipment direct to the end customer. Our custom designs can be delivered to prototype in four to six weeks, with production volumes in 12 to 14 weeks, often quicker than the lead time on some parts.
Take Full Control - license a design from Eurotech
If you need complete control of your supply chain you can speed the process by starting with a proven Eurotech design: a standard or custom product that meets EMF/RFI specs, Mil-Spec temperature, and has a fully ported and debugged OS. Then, put the product into production in your factory and pay us just a license fee.
Download a Whitepaper on Working with Eurotech

, or download as a Word file

.
For more on our prices and licensing policy, contact us.