ATEX and Intrinsic Safety Made Possible by Power-Thrifty Design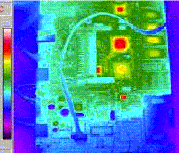 Eurotech systems are designed to be non incendiary right out of the box.
The above thermograph shows a standard system in an oven at about 30 Degrees C (86 Deg F). Even the hottest parts are no more than 40 Degrees C (104 Deg. F), far below the typical incendiary limits. In addition, Eurotech can work with your engineers to install current limiting around key capacitors, batteries to reduce energy storage and to allow entity approval and loop approval with other electronics.
Notably, in 2008, Intel introduced the Atom CPU for Single Board Computers. This is a very low power x86 that makes, for the first time, a ATEX approved x86 possible.
Eurotech has also employed low power designs to create a ATEX approved Wearable Computer, the Zypad WR1100
We regularly work with respected ATEX certifying organizations to achieve certificated approval for products based on Eurotech systems.
If you would like to find more about our ATEX programs, contact us.